Rope Access in Manchester
Rope Access in Manchester
Delta Access Ltd has extensive experience providing services and solutions of rope access in Manchester. We have the means and ability to reach areas of difficult access, develop techniques and professional systems that have the highest quality standards.
We are here to answer your rope access services requirements such as glazing, cladding, painting and general maintenance. We specialise in difficult access, in a safe, time efficient and cost effective manner, for which we adapt to each one of the project requirements, since each job execution has different situations and procedures that are evaluated in a particular and personalised way
'Reduce cost & time by using IRATA Certified Rope Access' (no scaffolding required)
Delta Access, provides comprehensive rope access services. With its strategically location, certified technicians and inspectors, Delta Access can safely and reliable meet any maintenance, inspection or even banner installation requirement or industry standard on 24/7 365 days a year.
Delta Access provides a practical approach to all projects. Our very experienced technicians are totally familiar with all aspects like:
General Maintenance
Glazing
Cladding
Banner Installation
Window Cleaning
Safety Netting
Emergency and Rescue services
Safety & Advice
Rigging & Lifting
Quality control services
Delta Access operates under IRATA & IPAF guidelines.
What is

Rope Access

?
Rope access (accessibility through climbing with the aid of ropes) is a term widely used for industrial climbing techniques. You may have heard to it referred as "Mountaineering" or "Abseiling".
Rope access originated as an industrial application 25 years ago in the United Kingdom. Through the use of hi-tech climbing materials modified for industrial use and extensive training, rope access is regarded as a safe means for working at height worldwide.
Our highly technical and skilled staff work safely at height and the various fields of expertise of our staff means we can cover a large range of activities.
Why is

Rope Access

your

solution

for services at

height

?
Rope Access is economical: Less personnel, swift mobilisation, less material and minimal run time result generally in lower cost.
Rope Access is efficient: Rope access activities are easily operational and quickly terminated; other processes running simultaneously often do not need to be interrupted.
Rope access is adaptable: Contrary to many conventional solutions, Rope Access is adaptable and therefore can be used for a variety of applications.
Rope access is safe: The accident and fatality statistics of Rope Access are considerably lower than other conventional solutions.
Where is
Rope Access
applied?
Rope Access is carried across a broad field of applications. Rope access has already been utilised throughout the construction, petrochemical, maritime and offshore sectors for decades. It is also frequently used at power plants, wind turbines, telecom providers and advertising industry.
Delta Access provides a safe, efficient and cost effective mode of working at height, and allows work to be carried out effectively in difficult access situations. The minimal time taken to install rope access systems make it almost always quicker and more cost effective than scaffolding or MEWP's.
A rope access job has a minimum impact on structure and surroundings, efficiently accessing the work zone and getting the job done with the least disruption at a fraction of the cost.
All members and contractors of Delta Access are highly trained and certified according the IRATA and/or IPAF.
Rope Access in
Manchester
Rope Access Glazing Manchester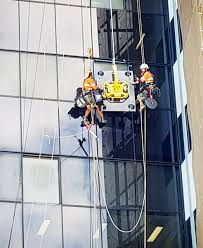 Rope Access
Window Cleaning
Manchester
Rope Access Inspection
Manchester
Rope Access Banners
Manchester